It's sew-along time again folks!
This time round we will be sewing up the Peggy skirt together.
So I hope you're ready to join me in this sew-along?!
Start & Finish dates:
The sew-along will run for a week and i will posting everyday throughout.
It is quite a quick skirt to sew up so a week is more than enough time to get it done.
Sew-along starts: Monday 11th of November
Sew-along finishes: Friday 15th of November
With a sew & tell round up in the following days, the fun part!
Can ya sew?
If you are a newbie on the sewing machine or have been sewing for yonks, then the Peggy skirt suits you all. The Peggy skirt is rated as a beginner pattern. And if you are a little unsure of sewing up the Peggy skirt and the possibility of tackling the curved shaped waistband and the 'Lip' shaped waistband, don't fear I'm here too help! We will be covering these during the sew-along, and i will be holding your hand the whole way through. Hopefully you will pick up a few new & neat sewing skills along the way as well.
How this sew-along will roll:
For the week that we shall sew the Peggy skirt together we will follow the below schedule:
Post #1: Getting started with the Peggy skirt, fabric suggestions, sizing, tracing and cutting.
Post #2:
Assembling the skirt - Tucks, darts, creating the pockets.
Post #3:
Side seams, centre back seam, inserting a lapped zipper.
Post #4: Waistband - I will show you how to create all three waistband variations.
Post #5: Hem, finishing touches and we're done!
Count me in! What do i need?
* The Peggy skirt pattern
*Fabric - I recommend fabrics such as
Chambray, Cotton & Cotton blends, Linen, Wool & Wool blends but the skirt is versatile enough feel free to experiment with different types of fabric.
* 7'' regular zipper to match your fabric
* Matching thread
* One 5/8'' cute button
*Lightweight fusible interfacing
* Four 5/8'' buttons for View A waistband with the side button tabs
* The usual sewing supplies : Your trusty sewing machine, pins ( lots of them), sharp fabric scissors, an iron, tracing paper, pens & pencils, measuring tape.
Wanna be social?
Keep in touch with other sew-along participants, post your progress, ask any questions or simply have a gawk on the below social media stuff:
Facebook/Bluegingerdoll
Instagram/bluegingerdoll - Use the Hashtag's #bluegingerdoll or #peggysewalong to post your progress photos on Instagram.
Twitter/bluegingerdoll - #bluegingerdoll or #peggysewalong
Flickr.com/bluegingerdoll

- Upload your Peggy photos to the Flickr group.
Grab a button:
If you care join me... then grab a button for your blog and share the love.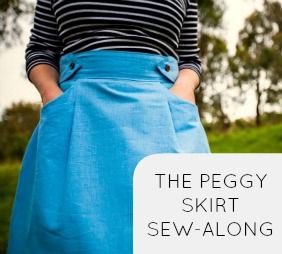 Hope this Peggy skirt sew-along tickles ya fancy, cause it's going to be a good one!
Also if you have spare minute, i would love for you to share your thoughts on a quick survey to help me make Bluegingerdoll even better in the upcoming new year!
Abby
xxx